Winner - Best Swing Trading Platform of 2021
WealthCharts has been named the Benzinga overall winner for Best Swing Trading Platform out of 400 distinguished companies revolutionizing Fintech!
With proprietary trade identification tools, powerful algorithmic scanners, incredible indicators, and an extensive library of trading and investing education, WealthCharts has the tools and resources that day and swing traders (as well as investors) need!
You can now trade with the same
private & proven indicators

used by top traders around the world!
Here are just a couple of the Bonus Indicators included for all WealthCharts members.
Rob Hoffman
IRB/Reverse IRB Indicator
Take advantage of one of the tools Champion Trader Rob Hoffman has used to win 30 International Real Money Trading Championships. Easily identify better entries and exits in trending markets to increase your opportunities to get ahead of the crowd and be the first to take advantage of market changes.
From former Bloomberg research analyst and technical analysis trainer Alex Cole, GoNoGo Trend helps analysts, traders, and portfolio managers understand the direction and continuity of a trend of any security within any asset class observed over any timeframe.
Tom Aspray
STARC Bands System
Considered a "technician's technician", Tom is a Forbes contributor and has been analyzing the market since 1982 and now his STARC Band indicator is available to WealthCharts Founder members. Try pairing it with the WealthCharts STARC Band Scanner! See trades faster, clearer than other traders as you're guided by the same custom "trading triggers" pioneered and used by Wall Street's top traders
You won't find the majority of these "insider trading tools" available to average traders anywhere else. Many are the secret weapons behind some of the most popular traders today. Now they can be yours.
"I've always wanted to know what the fund managers and champion traders in the world look at to know when to get in trades and when to get out before the reversal. Now I do! And it's amazing!"
WealthCharts not only makes it brain-dead simple for you to be a better trader, it gives you an extreme advantage over average traders by guiding you to execute trades based on the same tested and proven methods being used today by the world's most respected traders.
WealthCharts Premium Indicators
Some of the Premium Indicators Included With All WealthCharts Founder Level Memberships
Larry Gaines
PCT Indicators
Based on Larry's 30+ years of experience trading and brokering commodities and financial markets, these dynamic indicators are used to identify and trade powerful breakouts and reversals across any asset class or time frame.
Steve "Slim" Miller, a veteran trader with 47 years of experience trading stocks, options, futures on and off the trading floor, has brought his Slim Ribbon to WealthCharts, a robust indicator designed around Steve's belief in the importance of visualizing momentum.
Hubert Senters
Ichimoku ADX Scanner
Renowned Trader Hubert Senters's indicator massively reduces the amount of time spent identifying trends by instantly showing you if the market is in a downtrend, uptrend, or moving sideways; allowing WealthCharts members to move faster and take full advantage of trends while other traders are still analyzing.
Dr. Barry Burns
TDT Cycle Indicator
Great indicator for identifying overbought and oversold conditions in the market and also identifying positive and negative divergences before the market is about to turn.
Brian Shannon
Anchored VWAP & AVWAP Ribbon
With this private indicator from CMT, author, and technical analyst, Brian Shannon, you'll immediately see undervalued and overvalued instruments before anyone else so you avoid paying too much and lock in your trades at a much better price.
Jake Bernstein
8 O/C Indicators
This powerful combination of indicators allows users to not only identify trend changes, but also key long and short entry opportunities as well!
Johnny Seville
Acorn Money Flow Indicator
This tool takes Johnny's years of experience with the markets and uses it to help you identify key buy and sell opportunities based on his blend of price and volume analysis.
Mark Helweg
TOP Extreme Index
This powerful reversal detection tool is designed to analyze and identify potential reversal points where prices become overdone to the upside or downside. It is also highly effective in detecting where dominant price cycles begin, which creates a powerful price forecasting tool.
There are too many partners to list, some of our other incredible contributors include:
Davide Biocchi
Jody Samuels
Chris Vermeulen
Sean Kozak
And many more...
Founder Member Status
What is WealthCharts Founder Member Status?
Founder Members will be among an exclusive group of elite traders and investors, the best of the best, that will help steer WealthCharts growth and development - available for the next week.
Founder Members will have the unique opportunity to drive the new tools, features, and indicators that will be added to the platform, receive access to all of the Premium indicators* from trading veterans, and have a unique badge for their trading profile that no other members will be offered.
Become a Founder Member Today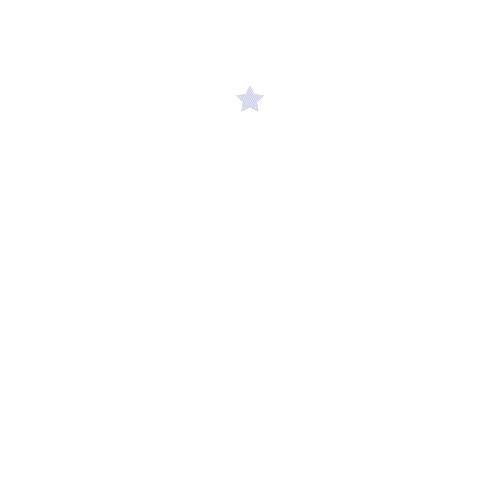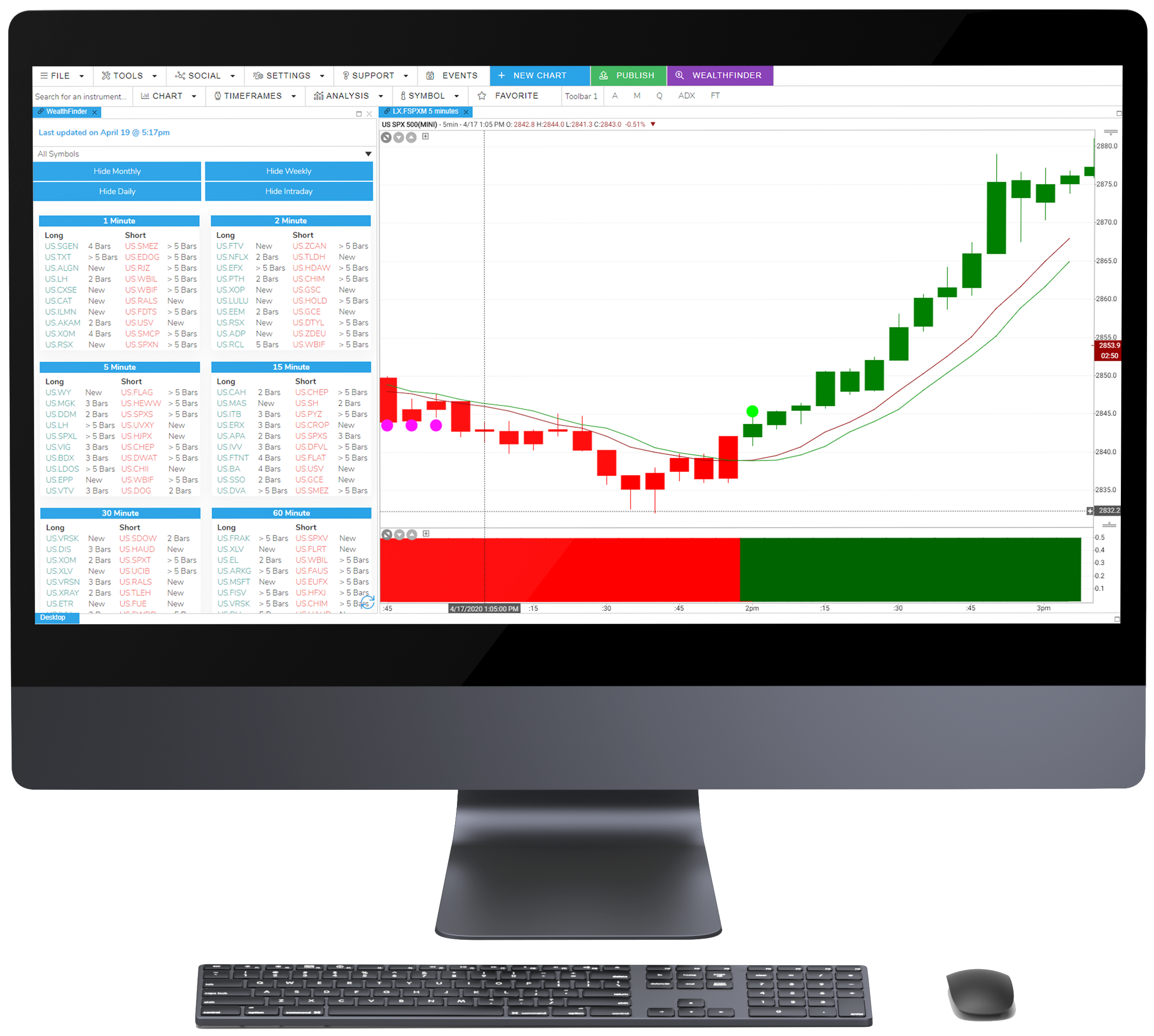 Founder Member Exclusive
WealthFinder — An instantly accessible resource to find higher probability trades, faster
For our Founder Members, WealthFinder is an incredible tool to accelerate the research process. It uses a blend of proprietary algorithms and AI with the goal to RAPIDLY find POTENTIAL trading setups and ideas that you can then apply your own favorite technical analysis to and determine if a trade is there for you. WealthFinder makes it fast and easy to find opportunities, so you don't have to spend all of your VALUABLE time sifting through junk.
Sign Up Now
The same toolbox as the experts...
...all in the palm of your hand.
WealthCharts is built to work on desktops, laptops, tablets, and mobile phones without sacrificing features. You can even create "phone-only" workspaces with WealthCharts indicators to display the exact information you want access to on-the-go!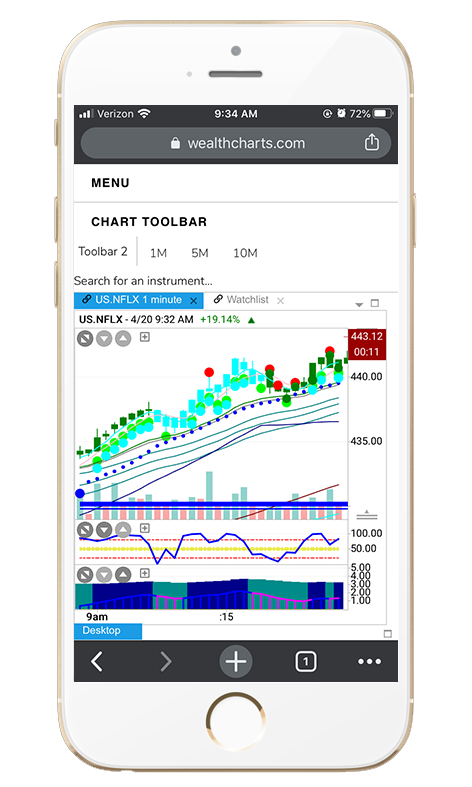 Connect your account from one of our brokerage partners and trade right from your phone. Powerful, cloud-based charts and analysis means you don't need to compromise your trade timing. Follow the finest traders, use their tools, and take advantage of a market turn when it happens, not when you can get back in front of your computer.
Create and receive cloud-based alerts directly to your phone via SMS and also email, so even if you don't have your charts up you can be confident you won't miss an opportunity. It's never been this easy to stay up to the minute on what matters to you.

Trade Smarter
With WealthCharts
Trade Anywhere

Advanced, Browser-based HTML5 Charts
Trade along with the pro's from anywhere, with any internet connected device. Using their tools, catch the latest price breaks/fluctuations/changes or adjust your strategy on the road, so you never miss a tick.
Get WealthCharts Now
Trade Accurately

Powerful Algorithms and Real-Time Alerts
Utilize professional tools that have been proven in real-world environments to streamline your research and help you identify opportunities faster and more accurately. No more "paralysis by analysis", trade with confidence using the same setups as fund managers.
Get WealthCharts Now
Trade Actively

Tight-knit Community and Expert Insight
Nowhere else will you find ideas from trading champions and experts, demonstrating their trades with some of the same tools Founder Members have access to, letting you get in earlier and stay ahead of the crowds.
Get WealthCharts Now
More than just a trading platform
WealthCharts brings institutional tools to the retail trader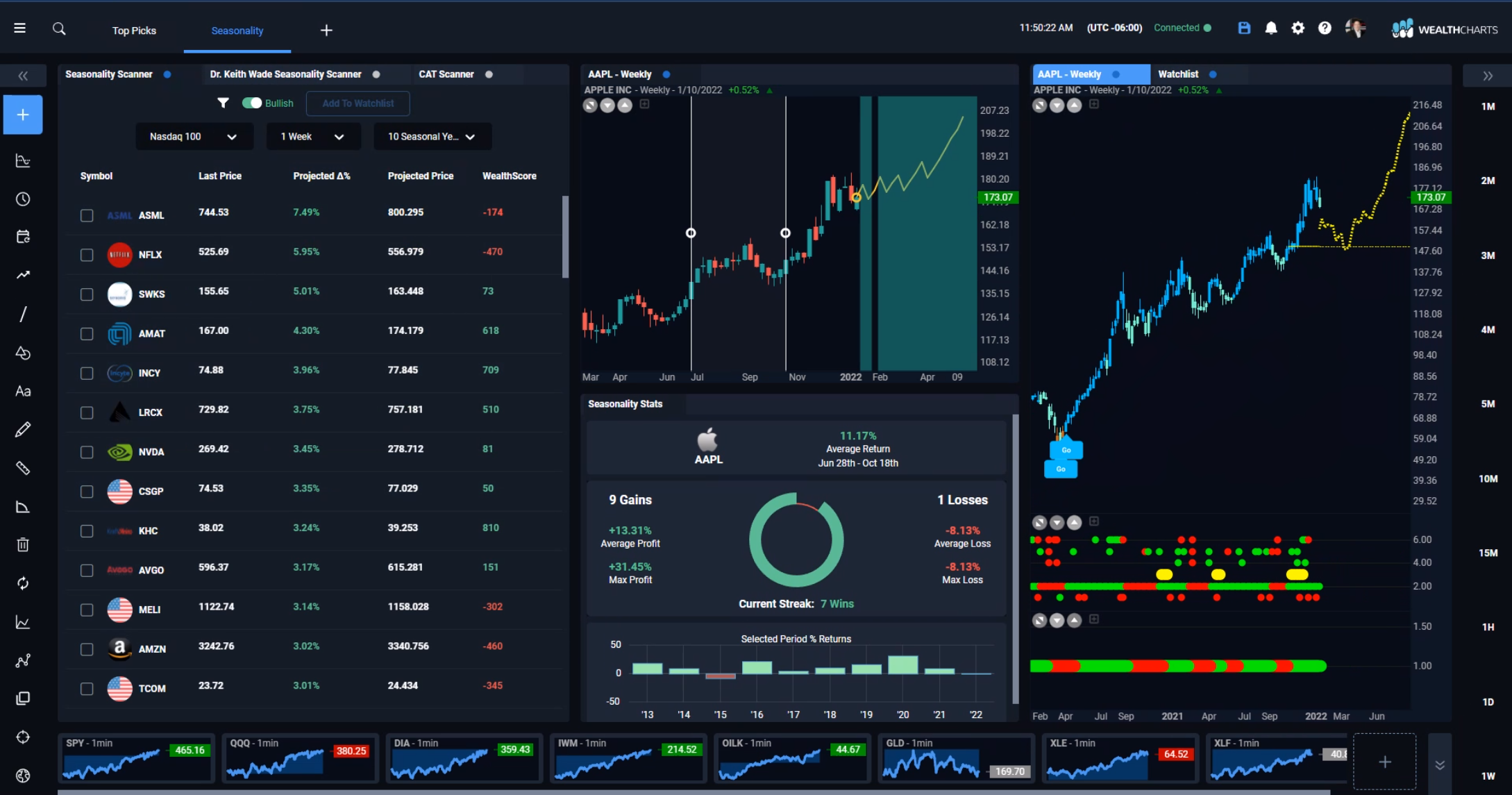 Seasonality
A new, enhanced approach to identifying seasonal trading patterns
WealthChart's SeasonalScanner takes seasonal trading analysis to a whole new level! In addition to reviewing up to 20 years of historical data to identify trends, it also pairs that data driven approach with our own proprietary algorithmic analysis engine to rank the highest probability of seasonal trade ideas. This is seasonality as you have never seen it before!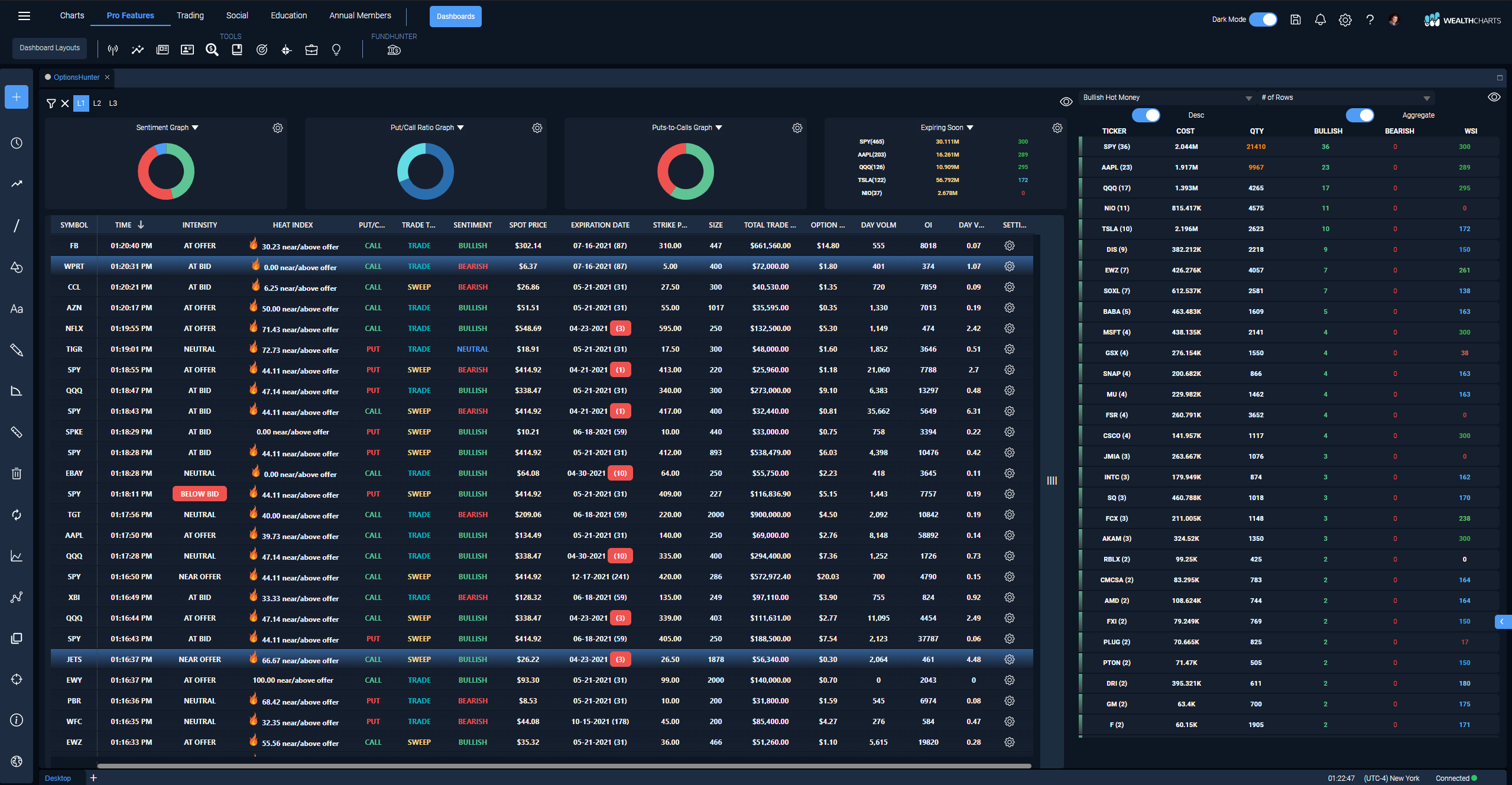 OptionsHunter
See where institutions are moving in or out of before it shows up in price
For day and swing traders alike, OptionsHunter analyzes Unusual Options Activity and rapidly identifies the most notable and aggressive options trades in your favorite stocks so you always know exactly where the biggest insiders are placing their money! For serious options traders, this at-a-glance analysis and rankings of both the instruments and markets that you are interested in can provide an edge in today's competitive environment. This activity often precedes a move in the underlying stock and thus is an important source of information, even for non-options traders.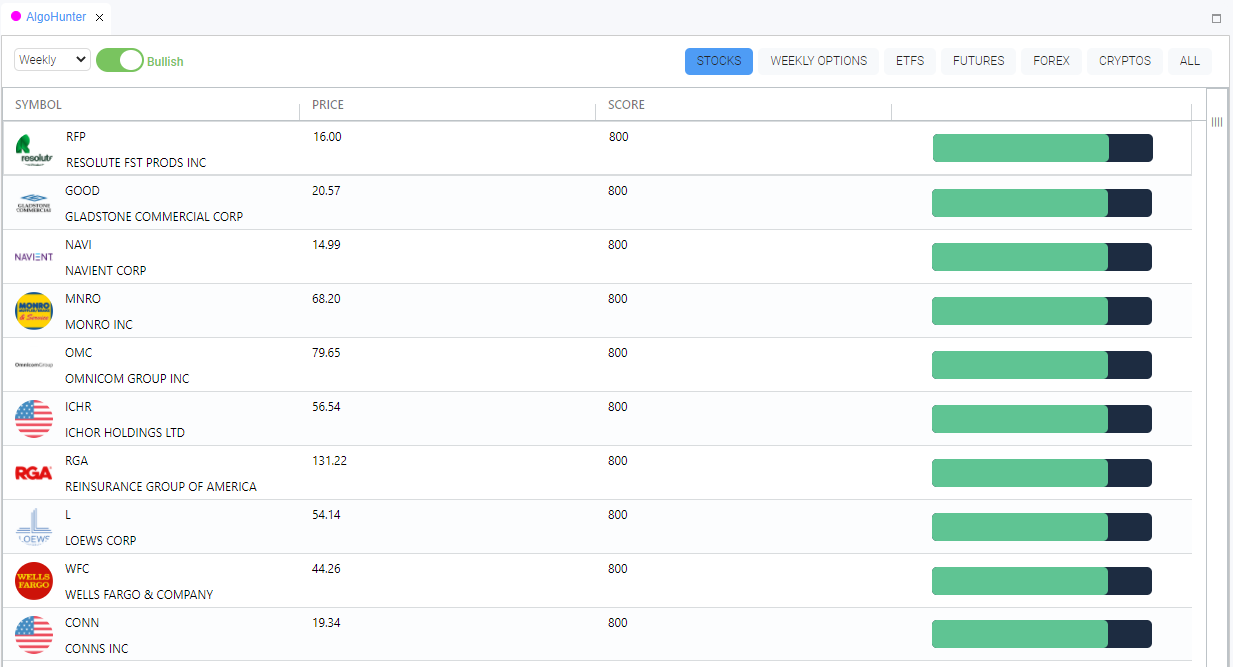 AlgoHunter
The fastest way to see the hottest opportunities based on your favorite timeframes and instruments
This powerful system of algorithms parses thousands of symbols using proprietary trading signals to evaluate potential trade strength in real time. Just plug in the types of instruments you like to trade such as stocks, options, futures, ETF's, Forex or Crypto currencies along with your favorite trading or investing timeframe, and the AlgoHunter will find the top ten highest rated trading opportunities that meet your criteria - saving you hours upon hours of research time!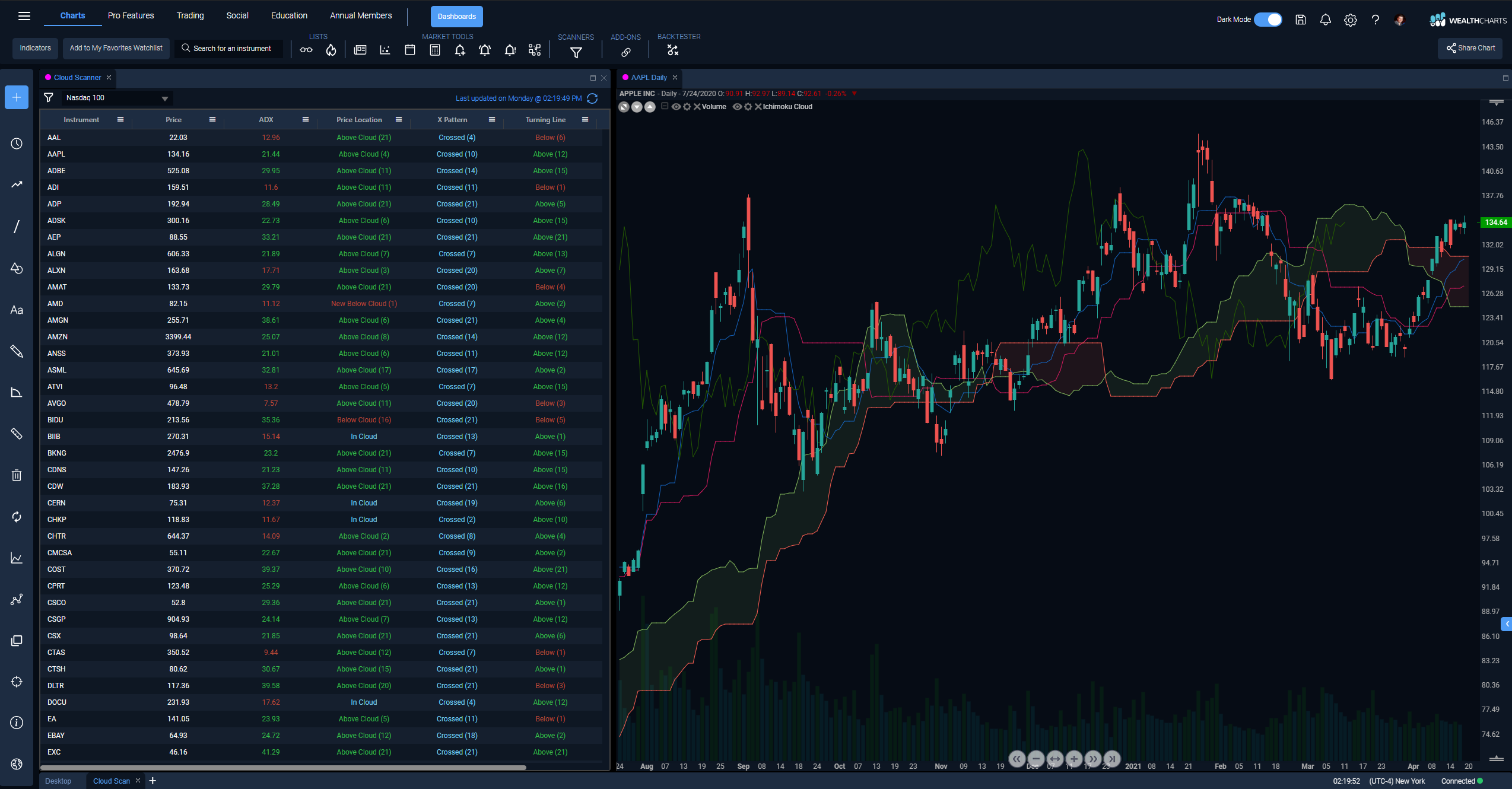 Robust Scanners
Let powerful algorithms review the market for you, based on your trading preferences
Save yourself valuable time by streamlining your trade research with powerful, intuitive scanners in WealthCharts. In addition to popular scanners like the Ichimoku Cloud scanner, WealthCharts also features a number of proprietary scanners like the Wealth Strength Index (WSI) and WealthFinder, which uses actionable algorithmic trading intelligence to quickly identify higher probability trade ideas. Most recent additions include the STARC Bands scanner and a Weekly Reversal scanner, with more being developed constantly!
Portfolio Analyzer
Know about possible changes in your portfolio long before your financial advisor will tell you
Ever wanted on-the-spot algorithmic analysis of your portfolio? The Portfolio Analyzer tracks your positions and provides projected price action for multiple timeframes to better prepare you for the market moves that will have a big impact on your positions. It's never been easier to get an at-a-glance update on your portfolio!
And so much more:
Select Worldwide Integrated Brokers
Massive Indicator Library (150+ Indicators, including Premium indicators from trading experts!)
Livestream - Pre-market Active trader and investor morning broadcast
Beginner To Advanced Active Trader and Investor Education
WealthScreener
Easy To Use Customization
Tight Knit Community Of Traders
Bloomberg-Level Newsfeed
Analysts Ratings, Guidance, Splits, Earnings, and Dividends Data Feeds
Heatmaps
Technical HUD
SMS/Email Alerts
Community Chatrooms
Hotlists
Alerts
Pre-Made Dashboards to get you up and running quickly!
WealthCharts Video Library
More than 100 hours of trading education, all in one place
Wealth365 Summit

WealthCharts Is The Only Place To Find Recordings Of The Presentations
The Wealth365 Summits are the largest 100% Online Wealth Summits in the world, with the greatest trading, investing, and wealth building minds sharing their top strategies with attendees, LIVE. These presentations have been collected in the WealthCharts Video Library so you can check out videos from speakers like Tom Sosnoff, Ralph Acampora, Dan Gramza, and many other popular traders!
Get WealthCharts Now
Top Tier Training

Education For All Experience Levels
When you are ready to make serious strides forward as a trader, WealthCharts training courses are the way to go. Rob Hoffman's Trade Like A Pro video series alone contains 35 videos sharing the numerous tips, tricks, and key strategies that define Rob's powerful methodologies that have been instrumental in his 30 international trading competition wins. In addition to this impressive course work, you'll be able to find additional training videos from Rob and other experienced traders such as Hubert Senters, Tony Zhang, Steven Brooks, and Jerremy Newsome.
Get WealthCharts Now
Indicator Tutorials

Incredible Tools With In-Depth Explanations
WealthCharts has partnered with top traders to offer not only their indicators, but also explanations for their usage. We have collected and curated the best material from some of the most prominent traders in the world, and built it directly into our platform. Follow along directly on the platform as Brian Shannon or Dr. Barry Burns explains their indicator and how to use it in your own trading.
Get WealthCharts Now
An Exclusive Invitation
WealthCharts Founder Member status is available for all that become members this week, so take advantage of this exclusive offer now, before it's too late.
Founder Members will:
Trade with all of the best trader's indicators
Access all (current and future**) Premium Indicators from some of the best traders, investors, and fund managers in the world
Drive new feature additions to the platform
Own the exclusive badge and Founder status to display to the entire community on their profile
Swap insights with the entire trading community
Become a Founding Member Today and Take Advantage of this Exclusive Discount

Founder Special $297/month*